Back
A silver gilt lidded ewer and basin
Paris, 1713‑1714
Silversmith: Nicolas I Outrebon
The gilding circa 1785
Détails
The ewer: H. 22.9 cm (9 in.); L. 16 cm (6 ¼ in.); D. 10.8 cm (4 ¼ in.)
---
The basin: H. 4 cm (1 ½ in.); 35 × 22.8 cm (13 ¾ × 9 in.)
Provenance
Jean‑Nicolas Marquis de la Porte de l'Arthaudière (1752‑1833) and his wife Joséphine Emé de Marcieu (1766‑1848) married in 1784
---
By inheritance, her nephew, Albéric Emé Marquis de Marcieu (1789‑1862)
Marks (the ewer)
Silversmith: "N.O B", a crowned fleur‑de‑lis and two grains, for Nicolas I Outrebon (master in 1703)
---
Letter date: crowned V, for Paris 1713‑1714
---
Charge: reversed and crowned A, for Paris 1713‑1717
---
Discharge: two interlaced crowned L, for Paris 1713‑1717
Marks (the basin)
Contremarque: a rooster for Paris 1713‑1717
---
Discharge for old silver pieces: elephant trunk, for Paris 1744‑1750
Back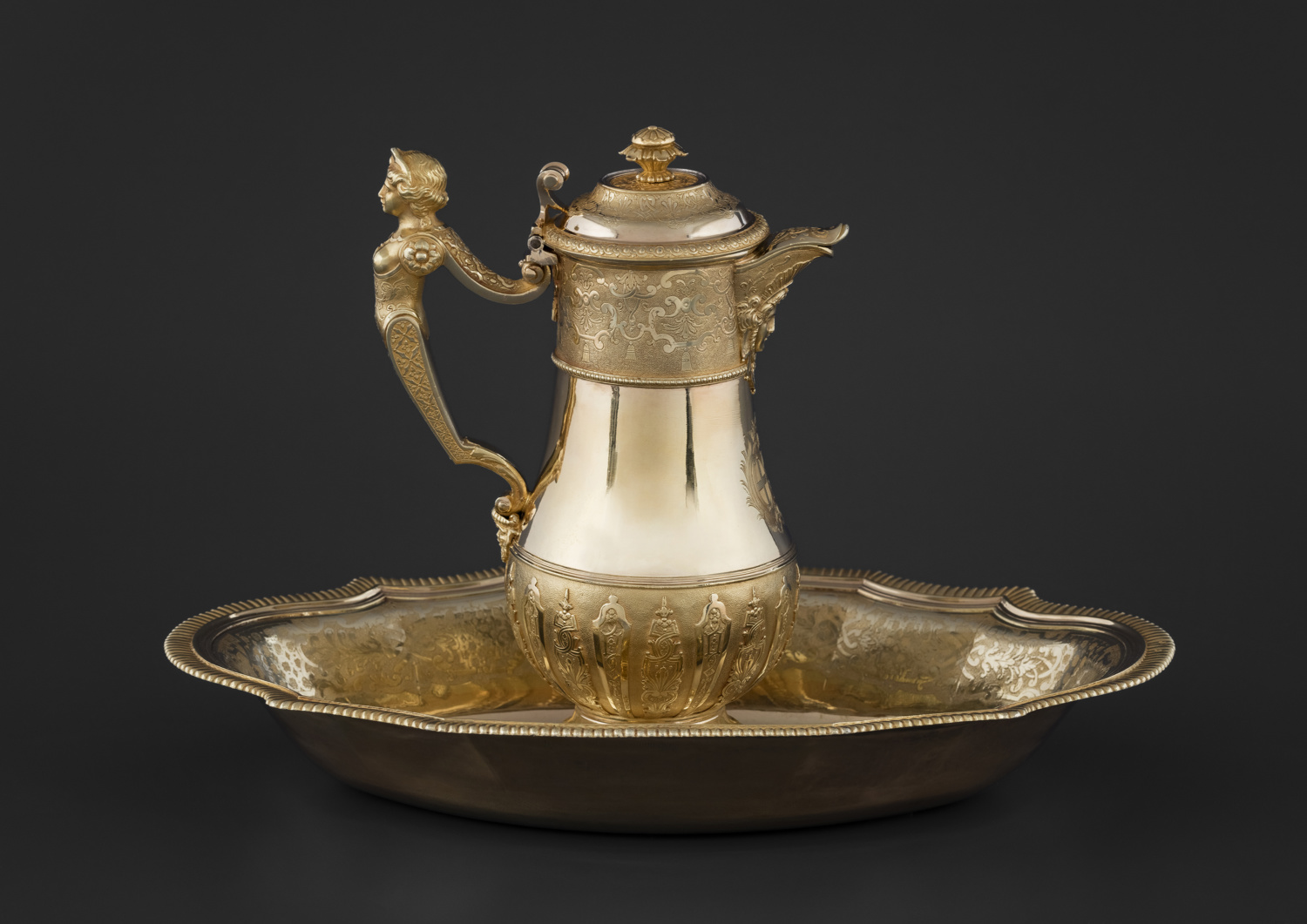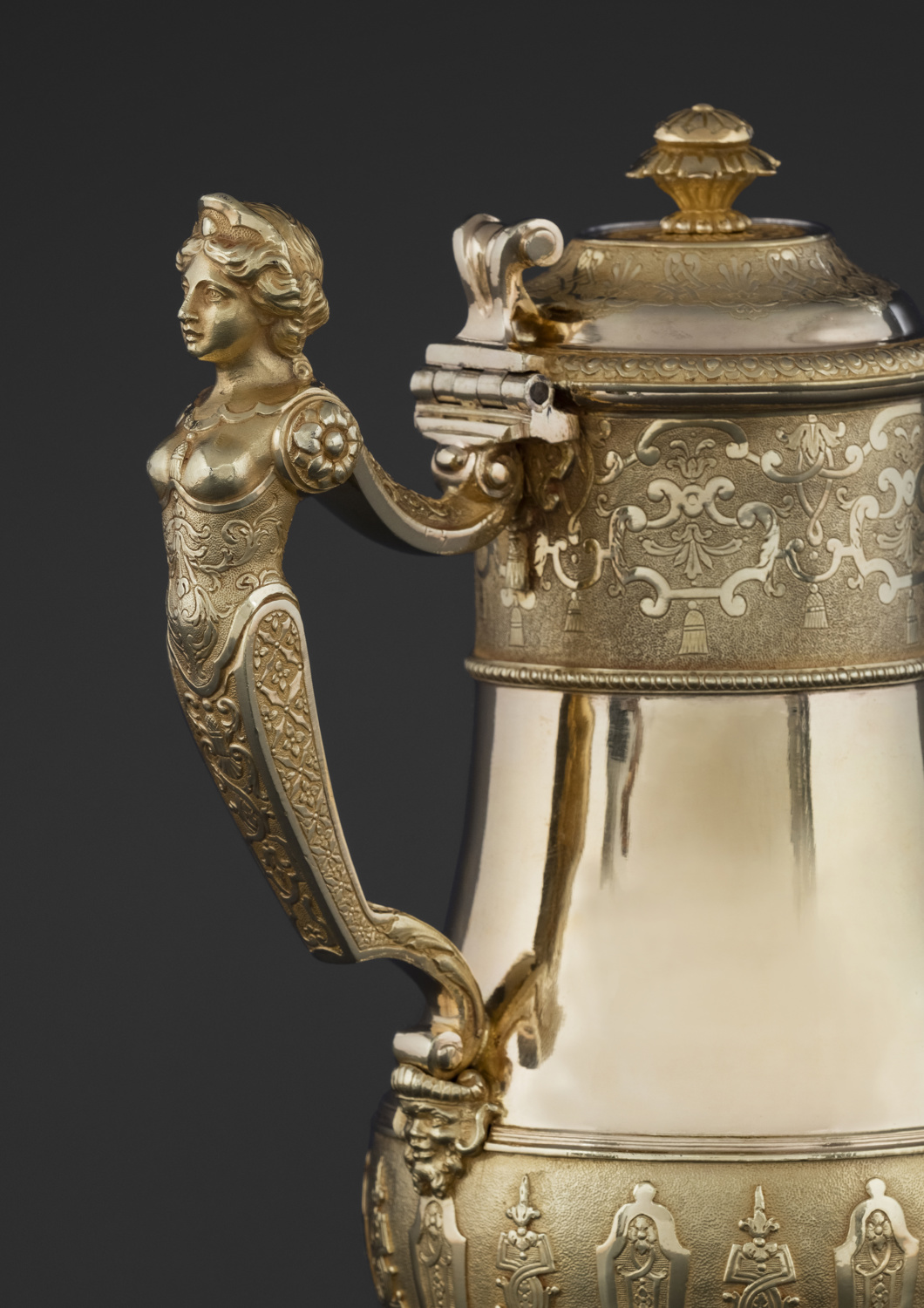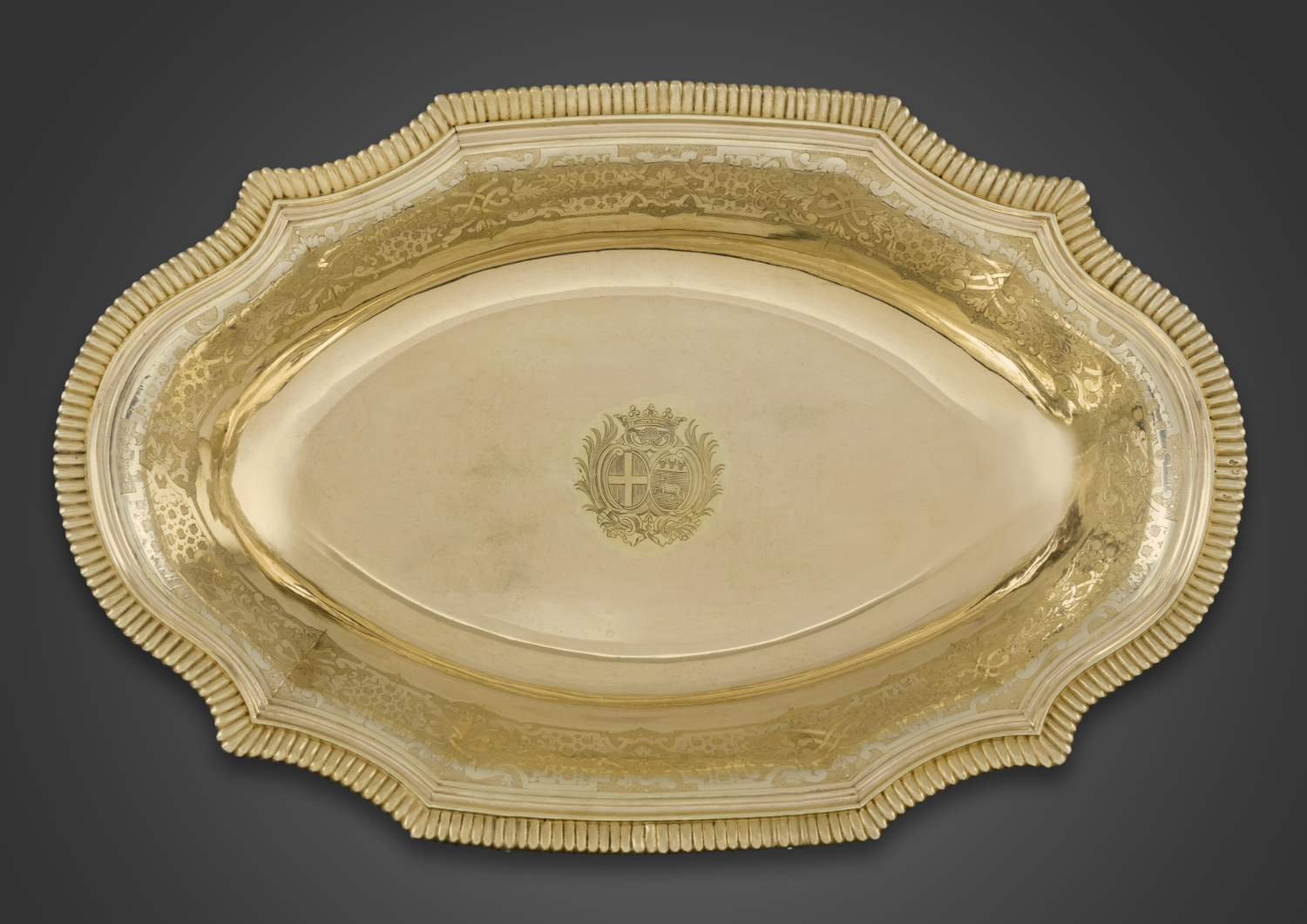 A silver gilt lidded ewer and basin
Paris, 1713‑1714
Silversmith: Nicolas I Outrebon
The gilding circa 1785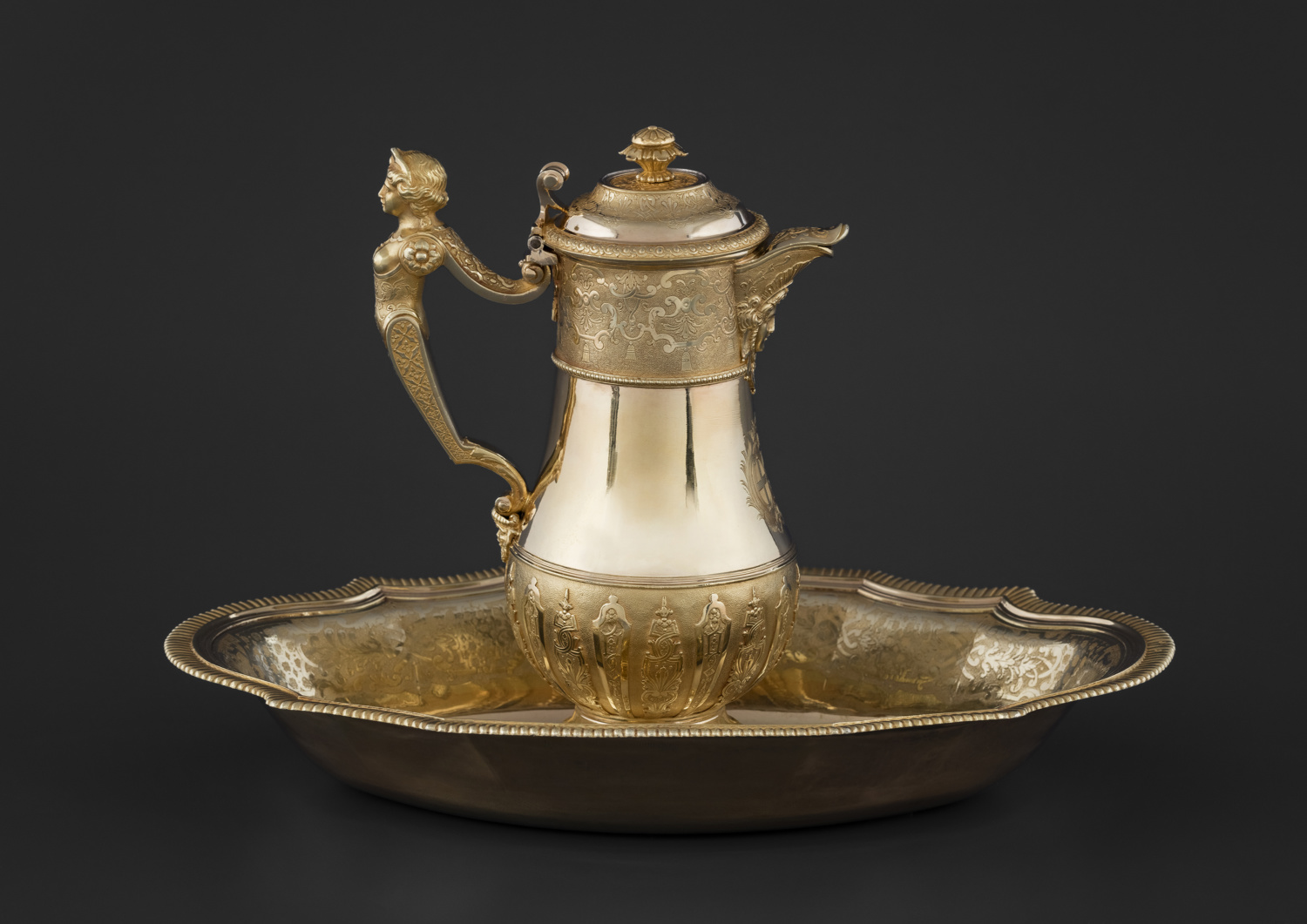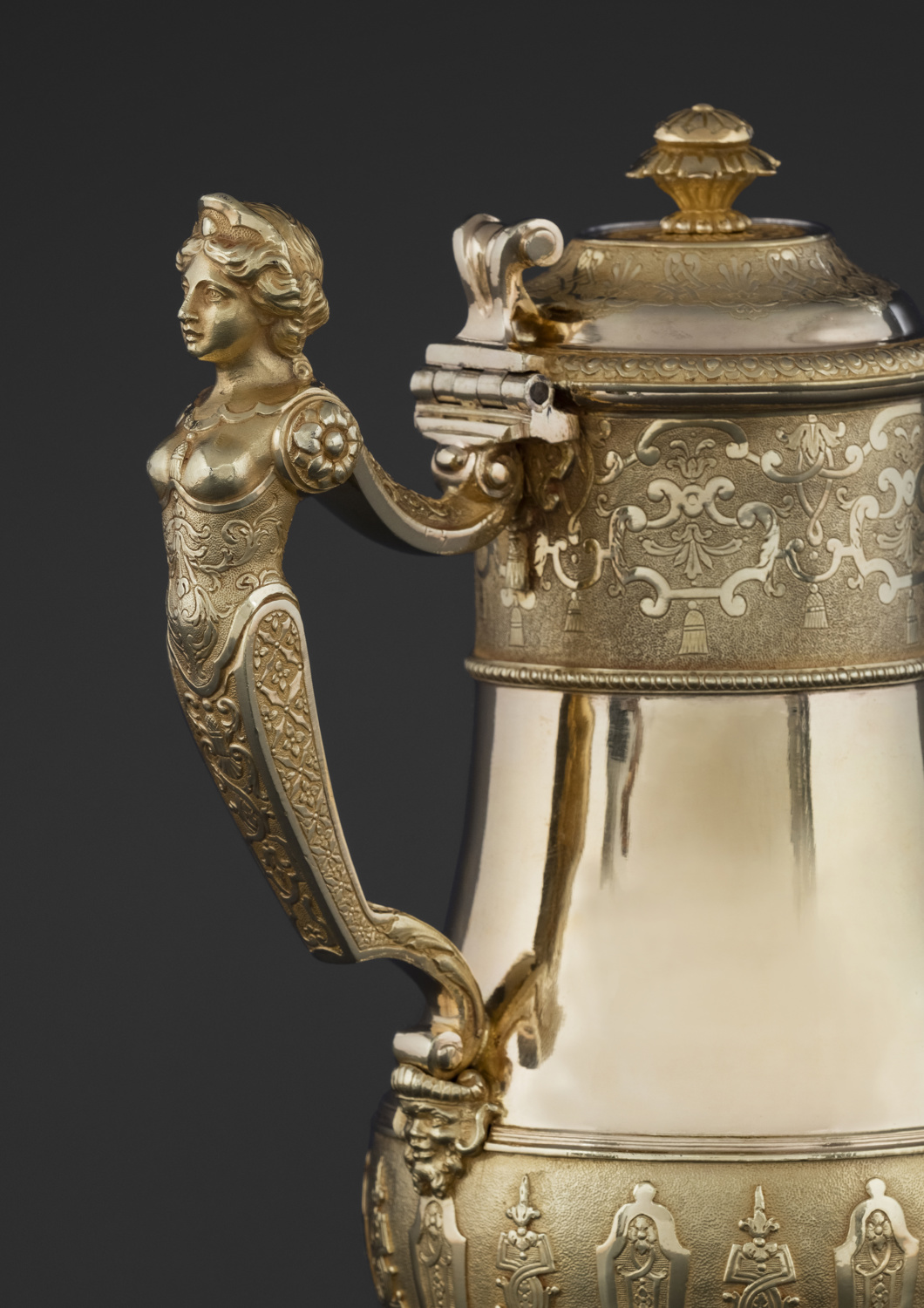 A superb and rare example of the goldsmith's art during the reign of Louis XIV, which miraculously escaped contemporary edicts mandating the melting of precious metals. The complete stylistic vocabulary used by goldsmiths during the second half of the 17th century is visible in the ewer's decoration.
Nicolas Outrebon was received as a silversmith master in Paris in 1703, approved by Nicolas Viardot. He settled place Dauphine and appears on the lists of 1715 as living on the Pont au Change. He is the father of the silversmiths Jean-Nicolas Outrebon (master in 1727) and Nicolas II Outrebon (master in 1735).
The coat of arms of this ewer and its basin are the one of Jean-Nicolas, Marquis de la Porte de l'Arthaudière (1752–1833) and his wife Joséphine Emé de Marcieu (1766–1848). Unlike his two brothers, he did not emigrate when the Revolution broke out, but stayed at the Arthaudière where he got arrested in 1793, and his possessions sequestrated.