Back
The Barberini Atalanta and Hippomenes
Torsos, Rome, 1st century AD. The group completed at the beginning of the 17th century probably by Baldassarre Mari (1596‑1673)
Details
White marble group
---
H. 113 cm (44 ½ in.); L. 91 cm (35 ⅞ in.); W. 59 cm (23 ¼ in.)
Provenance
Cardinal Antonio Barberini (1607‑1671), Palazzo Barberini alle Quattro Fontane, Rome
---
His nephew, Cardinal Carlo Barberini (1630‑1704), Palazzo Barberini
---
His nephew, Urbano Barberini Prince of Palestrina (1664‑1722), Palazzo Barberini
---
His daughter, Cornelia Costanza Barberini (1716‑1797), Princess Sciarra, Palazzo Barberini
---
Her grand‑son, Maffeo Barberini Colonna Prince Sciarra (1771‑1849),
---
Moved in 1811 to the Palazzo Sciarra, Via del Corso, Rome
---
Certainly sold by his son, Maffeo Barberini Colonna Prince Sciarra (1850‑1925), in the 1880s
Literature
Inventory of the collections of Cardinal Antonio Barberini in 1644, nº678 published by Aronberg Lavin (Marilyn), Seventeenth‑century Barberini documents and inventories of art, New York, 1975, p. 182
---
Post‑mortem inventory of Cardinal Antonio Barberini in 1671, nº911 (Idem, p. 332)
---
Inventory drawn up in 1692, completed in 1704, of the collections of Cardinal Carlo Barberini, nº457 (Ibid., p. 445)
---
Maffei (Paolo Alessandro) and Rossi (Domenico de), Raccolta di statue antiche e moderne, Rome, 1704, pp. 90‑91, pl. XCVI engraved by Robert van Audenaerd
---
Montfaucon (Bernard de), L'antiquité expliquée et représentée en figures, suppl. to vol. I, Paris, 1724, pp. 121‑122, ill. pl. XLV
---
Gray (Thomas), "Criticisms on Architecture and Painting during a Tour in Italy", circa 1738, published in The Works of Thomas Gray, vol. IV, 1836, p. 281
---
Winckelmann (Johann Joachim), Ville e palazzi di Roma (Mss), Rome, 1756, fol. 122v
---
Northall (John), Travels through Italy, London, 1766, p. 321
---
Burney (Charles), Viaggio musicale in Italia, 1770, p. 250 (ed. 1979 by Enrico Fubini)
---
Itinéraire classique de l'Italie, 8th ed., Paris, 1828, p. 54
---
Liez (A.A.J.) & al., Histoire romaine de Tite‑Live, vol. VI, Paris, 1835, p. 266
---
Comte de Clarac, Le musée de sculpture, vol. V, Paris, 1851, p. 41, nº2027 A, pl. 804 B
---
Spooner (Shearjashub), Anecdotes of Painters, Engravers, Sculptors and Architects, and Curiosities of Art, vol. III, New York, 1853, p. 65
---
Documenti inediti per servire alla storia dei Musei d'Italia pubblicati per cura del Ministero della Pubblica Istruzione, vol. IV, Florence and Rome, 1880, p. 27
---
Immerwahr (Walter), De Atalanta, Berlin, 1885, p. 68
---
Matz (Friedrich) and Dühn (Karl Friedrich von), Antike Bildwerke in Rom mit Ausschluss der grösseren Sammlungen, vol. I, Leipzig, 1881, p. 257, nº949
---
Reinach (Salomon), Répertoire de la statuaire grecque et romaine, Paris, vol. I, 1897, p. 478, pl. 804 B, after Montfaucon
---
Pietrangeli (Carlo), Palazzo Sciarra, Rome, 1986, p. 367, nº22, and p. 368, nº40
Back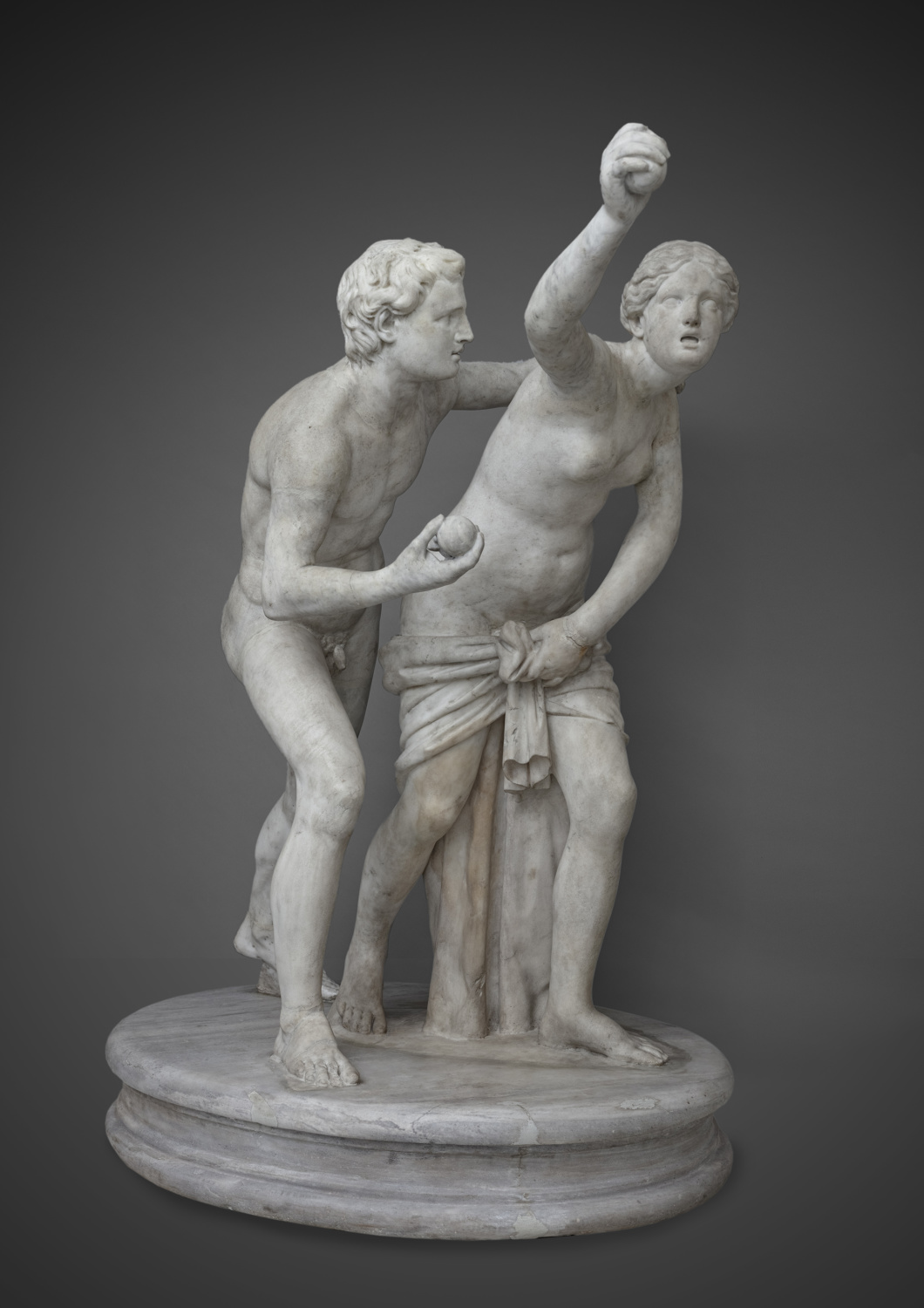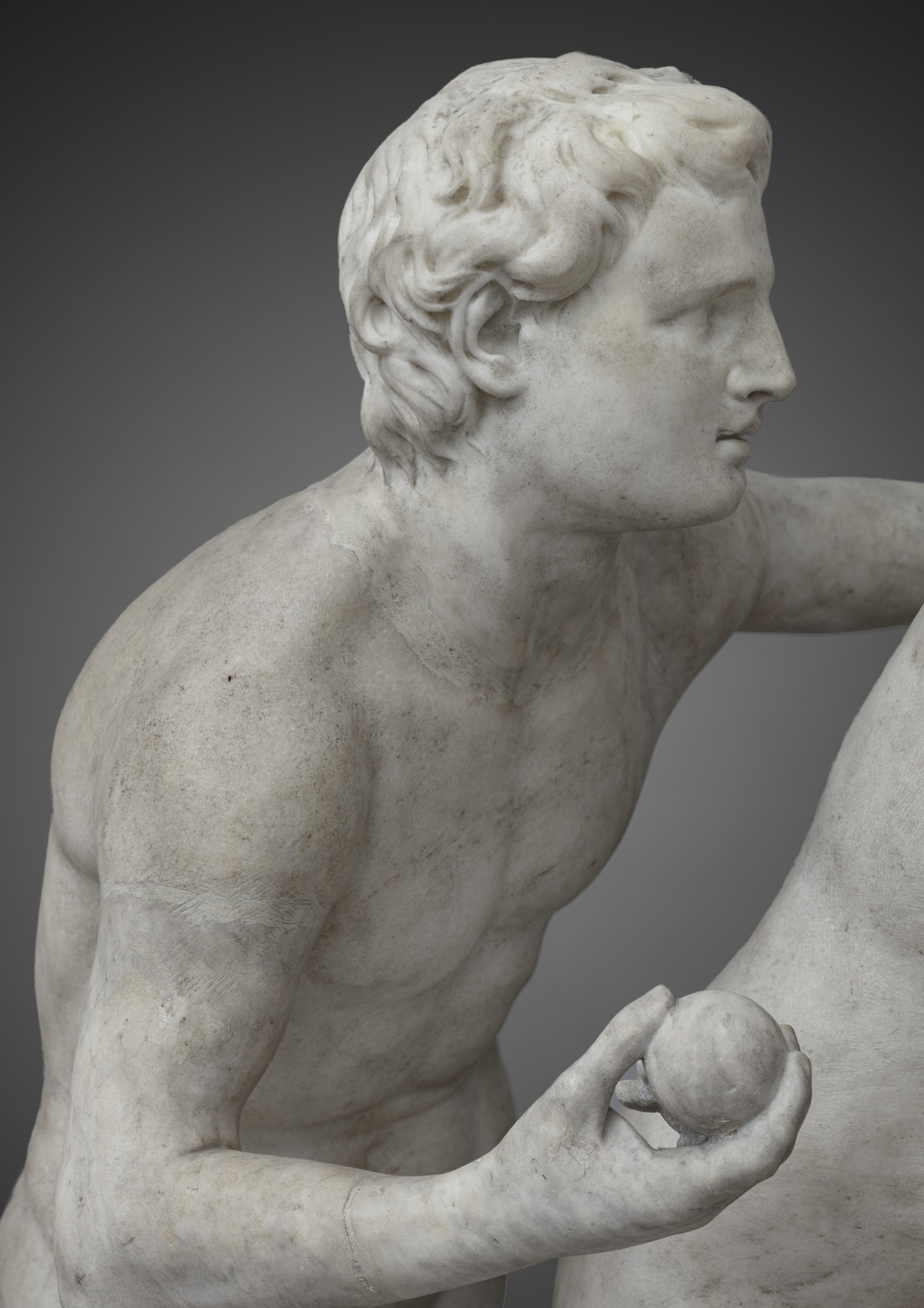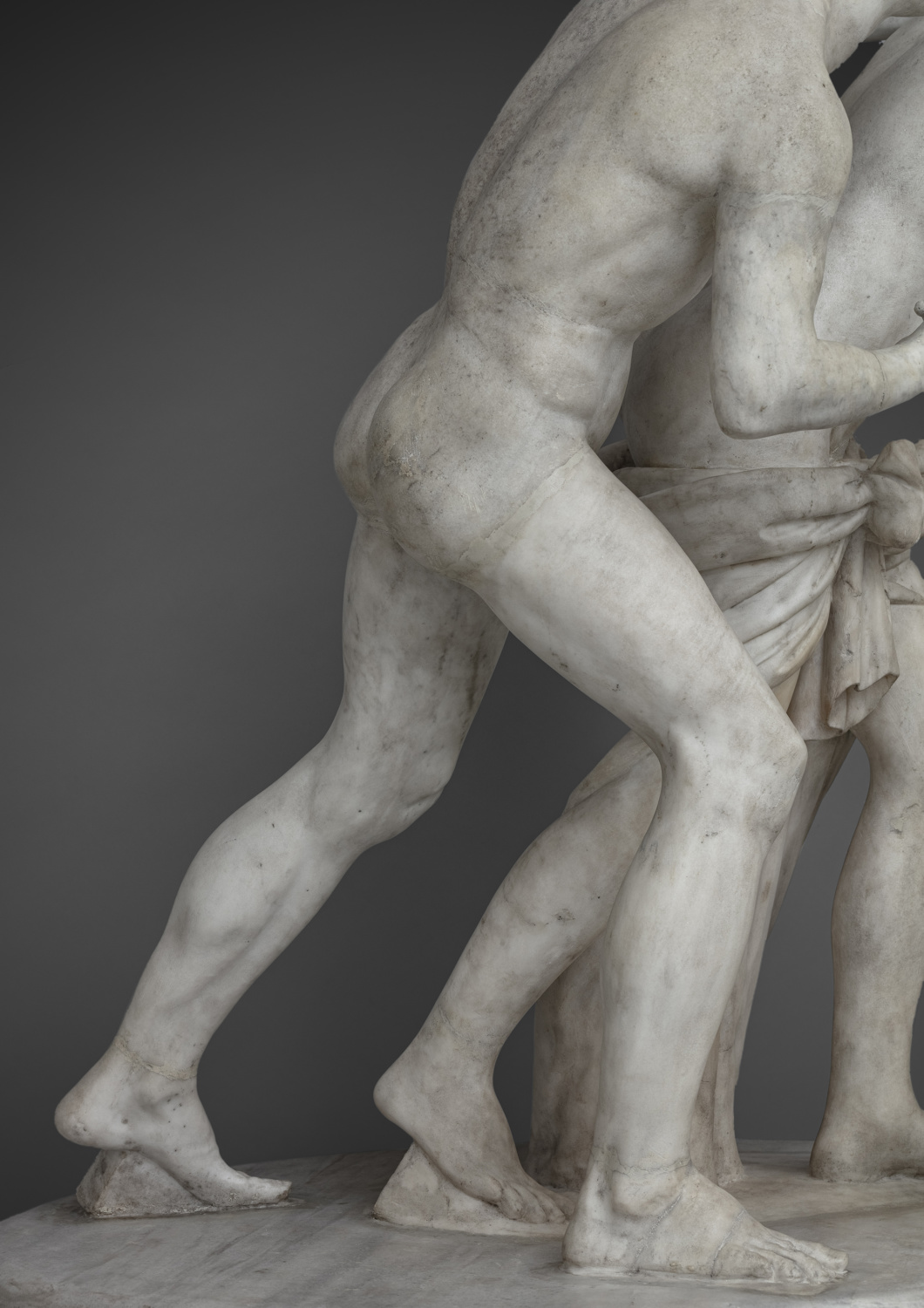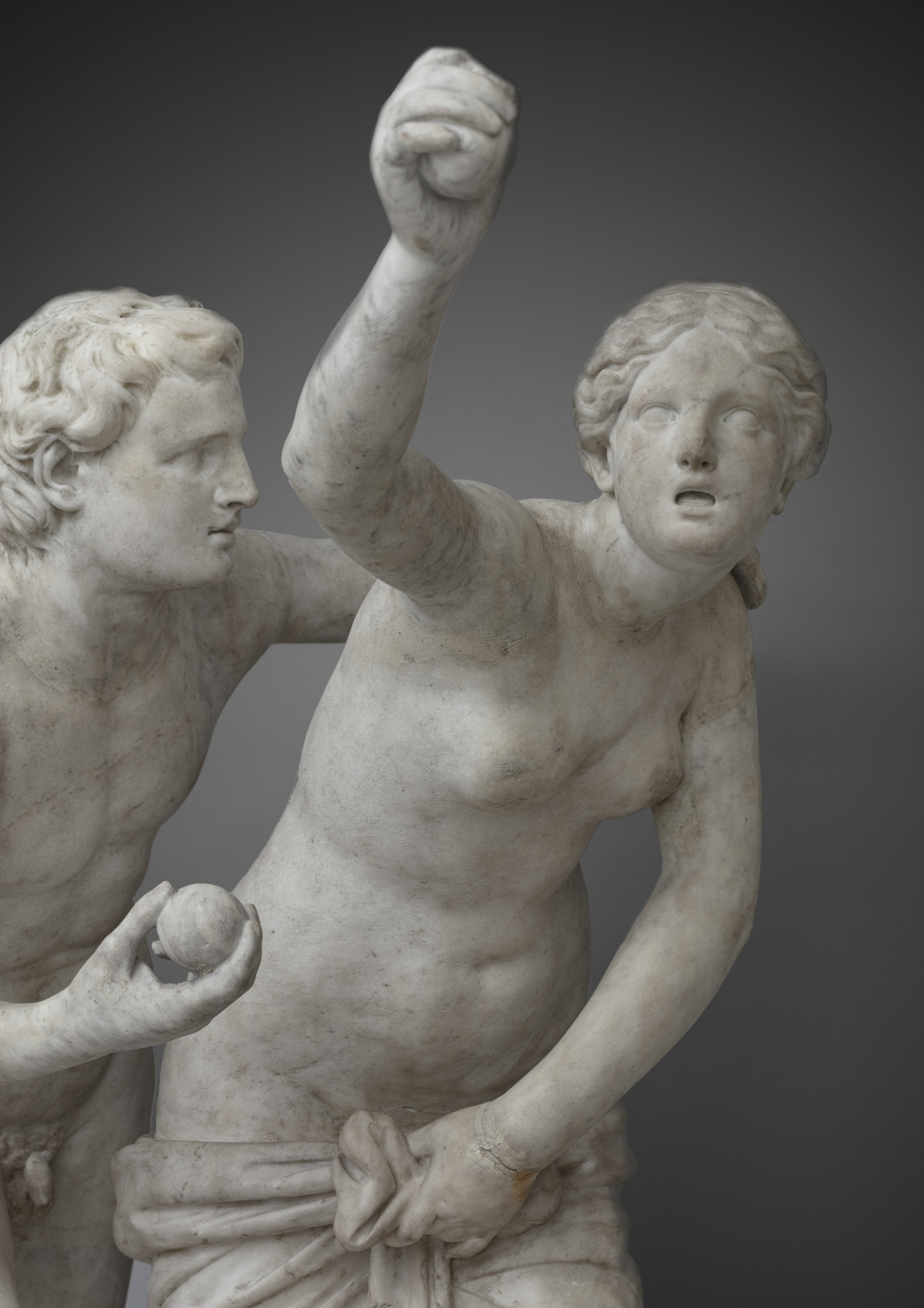 The Barberini Atalanta and Hippomenes
Torsos, Rome, 1st century AD. The group completed at the beginning of the 17th century probably by Baldassarre Mari (1596‑1673)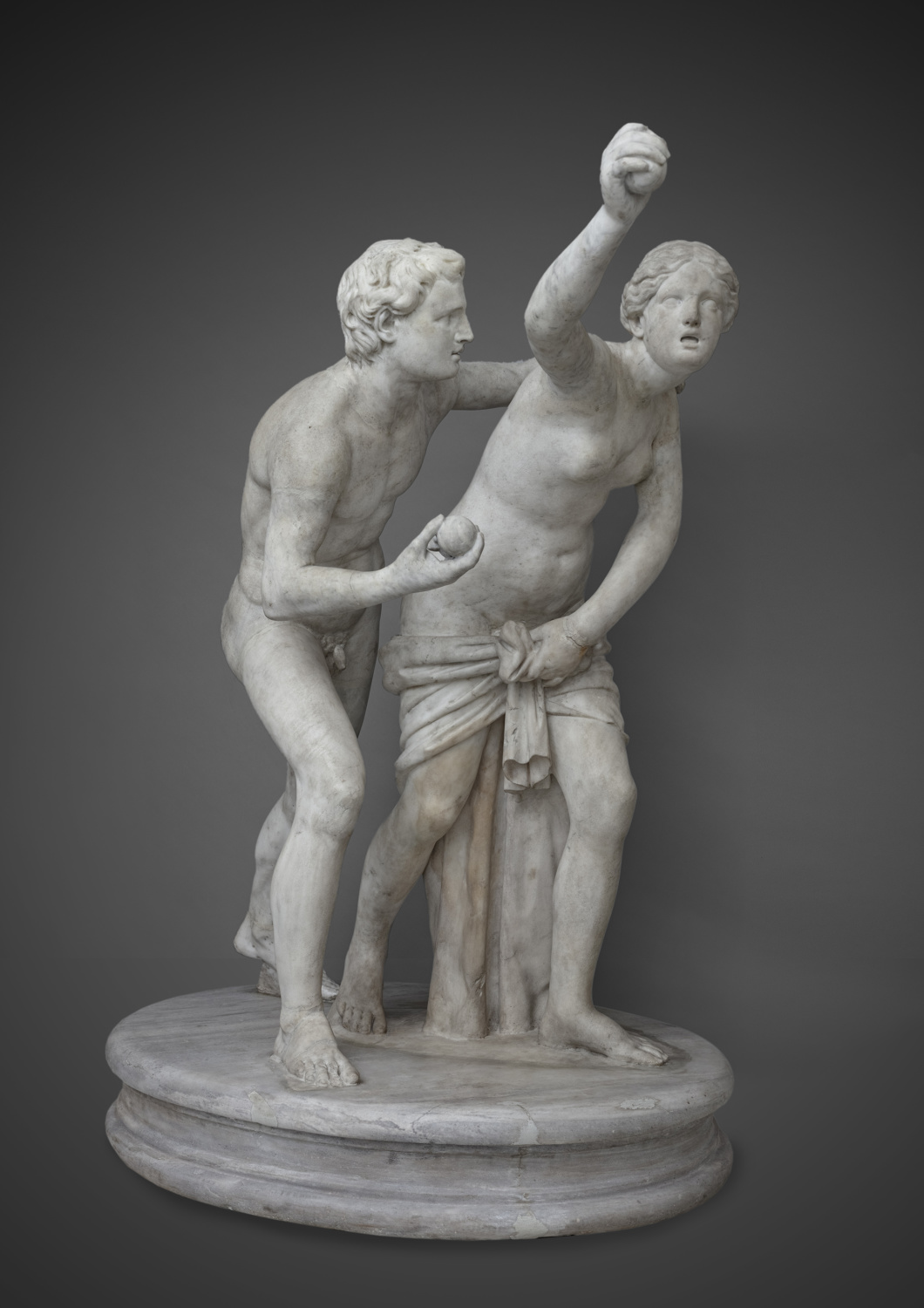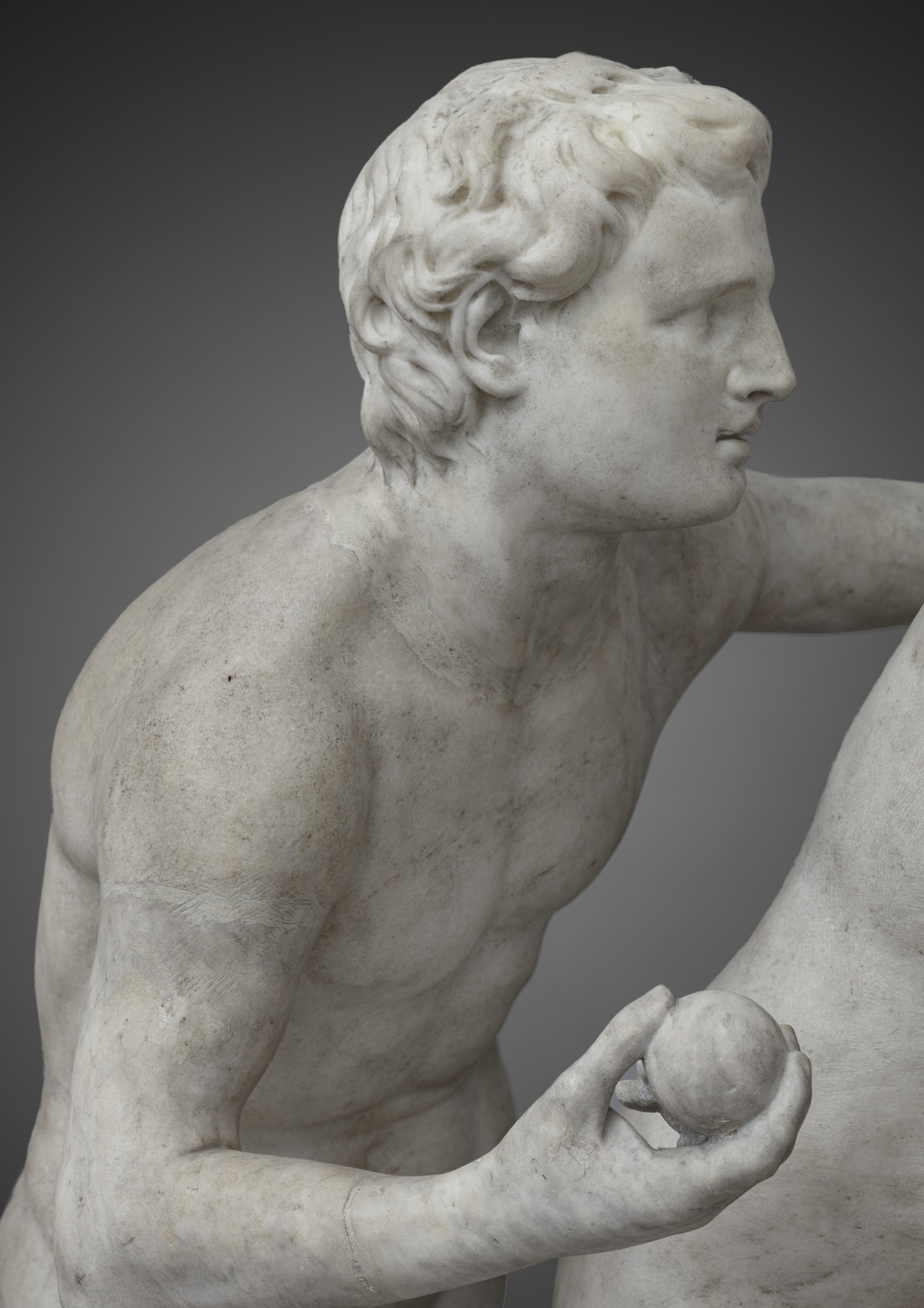 This large marble group of Atlanta and Hippomenes can be seen in the 1664 inventory of the collections of Cardinal Antonio Barberini. While its whereabouts were unknown for nearly one hundred and fifty years, it was famous throughout the 17th to 19th centuries when it was exhibited in Rome at Palazzo Barberini alle Quattro Fontane and then in Palazzo Sciarra.
It certainly was commissioned by Cardinal Antonio Barberini (1607–1671) and it was mentioned for the first time in the inventory of his collections drawn up in 1644 under the number 678. It remained in the collections of the Barberini family until the 1880s.
Almost all scholars mentioned this group in their books about Roman antiquities. The first mention was in the Raccolta di statue antiche e moderne written by Paolo Alessandro Maffei and Domenico Rossi, published in 1704, illustrated with an engraving by Robert van Audenaerd.