Back
"The Game of billiards"
An imperial pietra dura marquetry painting
Opificio delle pietre dure
Florence, 1755
After a design by Giuseppe Zocchi still in the Opificio delle Pietre Dure
Details
With its original molded ormolu frame. The reverse inscribed 1702 V / III 7 / A…
---
With frame: 55 × 71 cm (21 5/8 × 28 in.)
without frame: 43, 5 × 60 cm (171/8 × 235/8)
Provenance
Commissioned by Francis Stephen of Lorraine (1708‑1765), Grand Duke of Tuscany, Consort to Empress Maria Theresa of Austria
---
Delivered with the set of six games in Vienna, Imperial Palace, Wallnerstrasse
---
Collection Luca Batelli, Florence, 1871
Exhibition
Il fasto e la ragione: Arte del Settecento a Firenze, Galleria degli Uffizi, Florence, 30 May‑30 September, 2009, nº88, pp. 246‑247
Literature
Distelberger (Rudolf), Die Kunst des Steinschnitts: Prunkgefäße, Kameen, und Commessi aus der Kunstkammer, Kunsthistorisches Museum, Vienna, 17 December, 2002‑27 April 2003, p. 345
---
Giusti (Annamaria), Un capolavoro ritrovato: Il gioco del biliardo, Florence, 2007 (privately printed)
---
Exhibition catalogue, Il fasto e la ragione: Arte del Settecento a Firenze, Galleria degli Uffizi, Florence, 30 May‑30 September, 2009, nº88, pp. 246‑247
---
Giusti (Annamaria), La fabbrica delle meraviglie, la manifattura di pietre dure a Firenze, edifir, Florence, 2015, p. 54, fig.65.
Back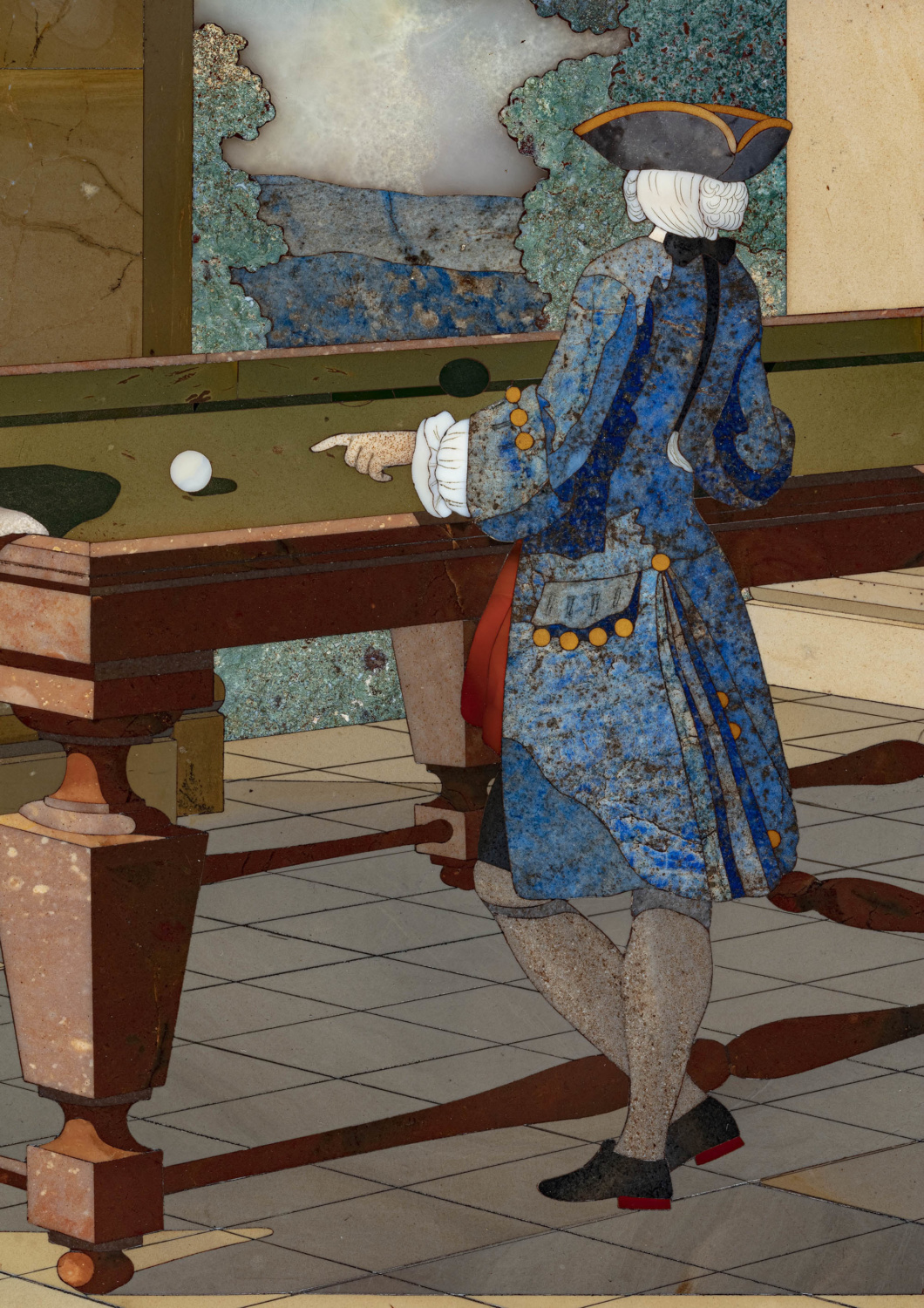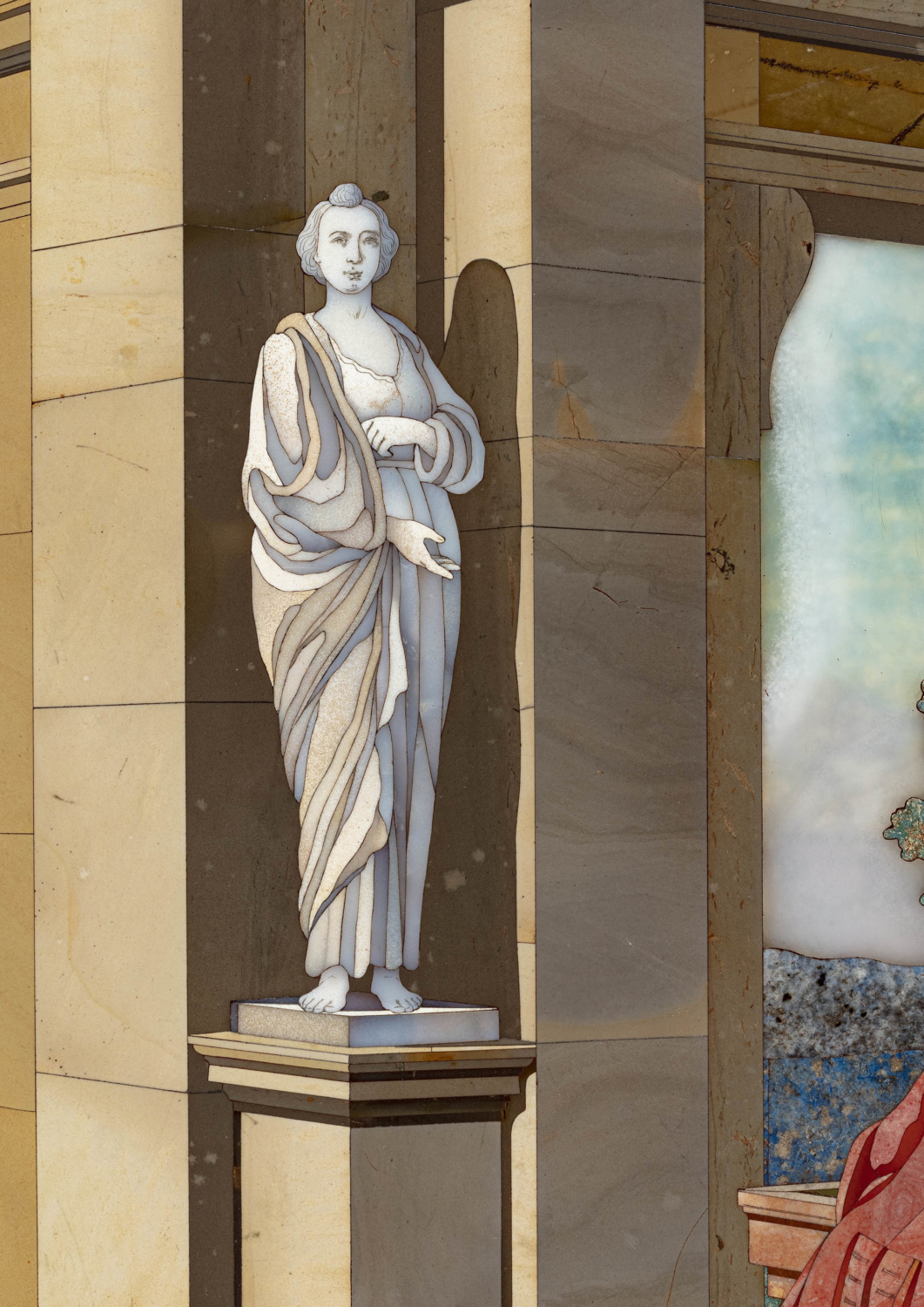 "The Game of billiards"
An imperial pietra dura marquetry painting
Opificio delle pietre dure
Florence, 1755
After a design by Giuseppe Zocchi still in the Opificio delle Pietre Dure
The Game of Billiards, lost since it was commissioned in 1752, and only briefly surfacing on the Florentine art market in the 1870s, appears as a major discovery.
It was once part of one of the most impressive and celebrated commissions produced by the Grand-Ducal workshops in Florence in the 18th century: the group of more than sixty pietra dura plaques created for Francis Stephen of Hapsburg-Lorraine (1708–1765), husband of Empress Maria Theresa of Austria in 1736, who became Grand Duke of Tuscany in 1737 after the end of the Medici dynasty, and elected Holy Roman Emperor under the name of Francis I in 1745.
Only one other pietra dura panel, also after a drawing by Zocchi depicting the Allegory of Architecture, appeared on the art market these last few years.