Back
The silver tureen and stand from the Bandeville service
The tureen:
Paris, 1739‑1740
By Gilles‑Claude Gouel (master in 1727)
The stand:
Paris, 1761‑1762
by Jacques Besnier (master in 1720)
Details
The tureen: H. 26.5 cm (10 ½ in.); L. 29.5 cm (11 ⅝ in.); D. 25.4 cm (10 in.)
---
The stand: diameter 39.2 cm (15 ½ in.)
Provenance
Pierre‑François Doublet de Persan Marquess de Bandeville (1705‑1761) and his wife Marie‑Anne Bigot de Graveron (1709‑1787)
---
By inheritance, her cousin Marie‑Madeleine Varin (1700‑), widow of Léonor‑Pierre Le Carpentier d'Auzouville (1689‑1778)
---
Her son, Louis Le Carpentier de Bosguérard (1725‑1806)
---
His grand‑daughter, Louise‑Blanche‑Adèle Chapelle de Courteilles (1786‑) wife of Alexandre de Seguin (1776‑1855)
---
His son Olivier de Seguin (1815‑1892) who married his cousin Alexandrine‑Adèle‑Eliane de Brémontier (1826‑1897)
---
Their son, Georges de Seguin (1850‑1934)
---
His son, le colonel Louis de Seguin (1882‑1952)
---
His daughter, Madeleine de Seguin, then his grand‑son
Archives
Inventory drawn up on 27th March 1761 after the death of Pierre‑François Doublet de Persan Marquess de Bandeville. Arch. Nat., min. cent., ét. LXXVI, 378. The value of the silver was made by the silversmith Jacques Ballin
---
Inventory before seals drawn up on 3rd July 1787 after the death of Marie‑Anne Bigot de Graveron Marchioness de Bandeville. Arch. Nat., Y 12819.
---
Her inventory drawn up on 2nd August 1787. Arch. Nat., min. cent., ét. LXXVI, 505. The silver was prized by the silversmith Antoine Lucas on 8th August 1787, nº204
Back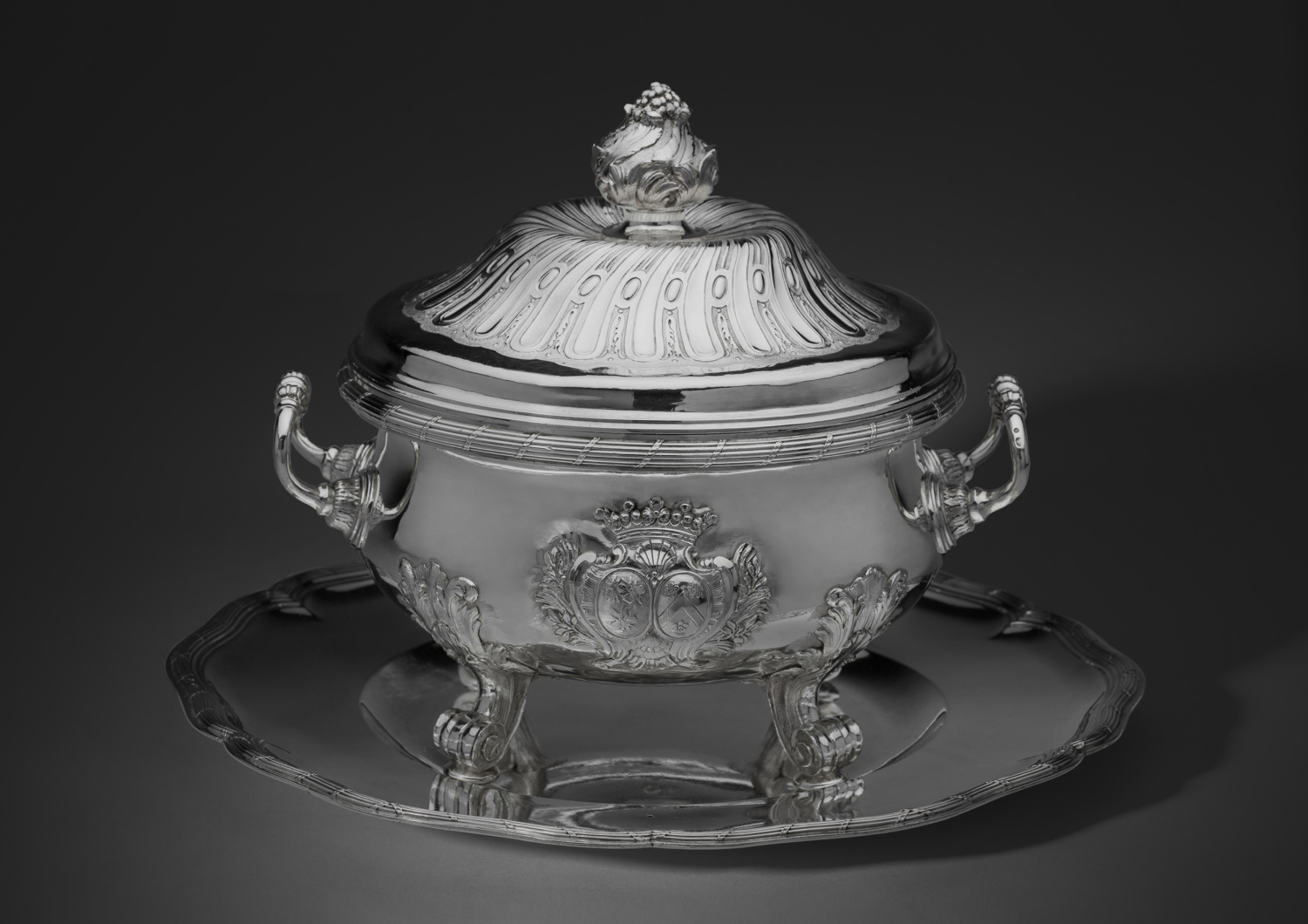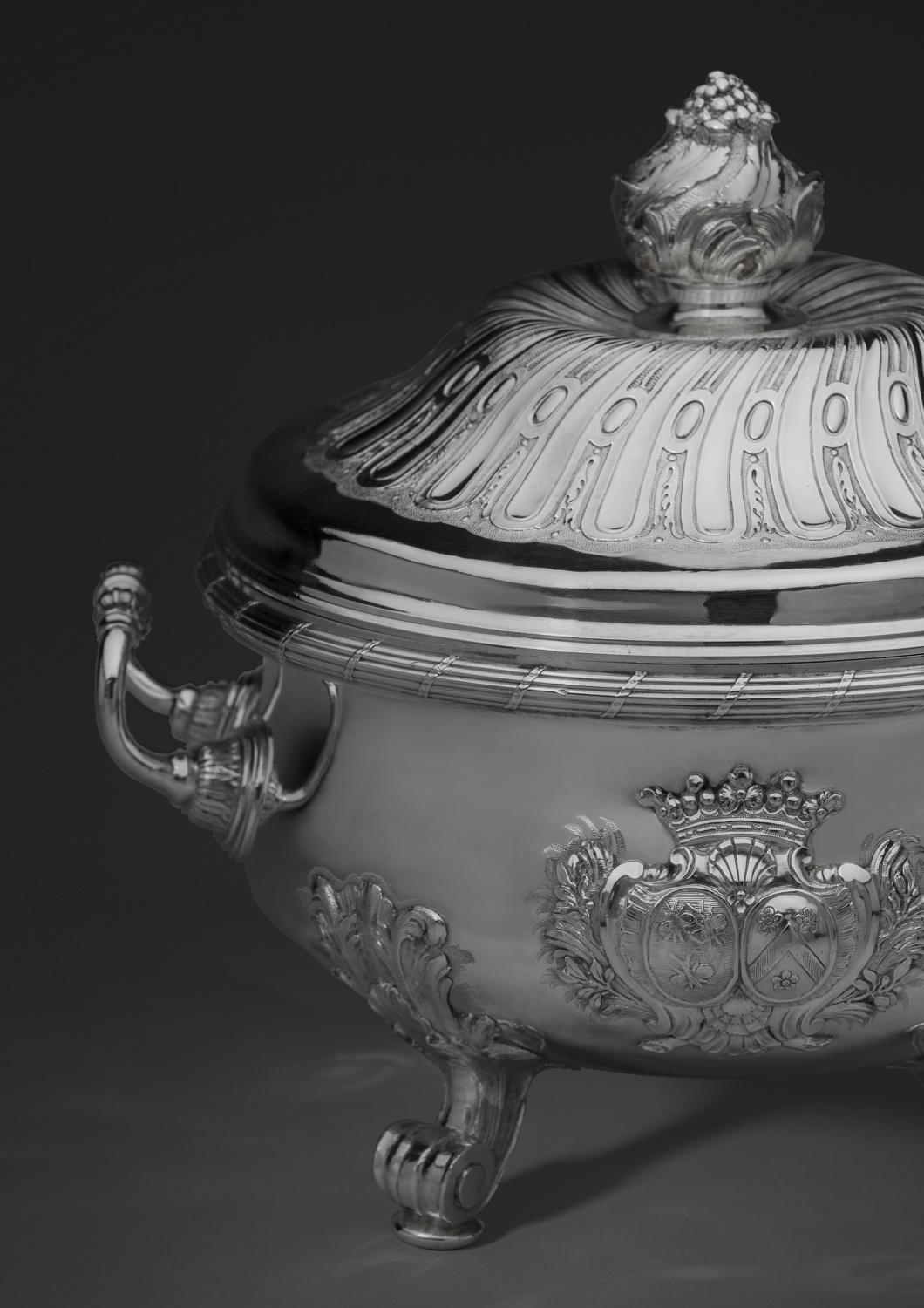 The silver tureen and stand from the Bandeville service
The tureen:
Paris, 1739‑1740
By Gilles‑Claude Gouel (master in 1727)
The stand:
Paris, 1761‑1762
by Jacques Besnier (master in 1720)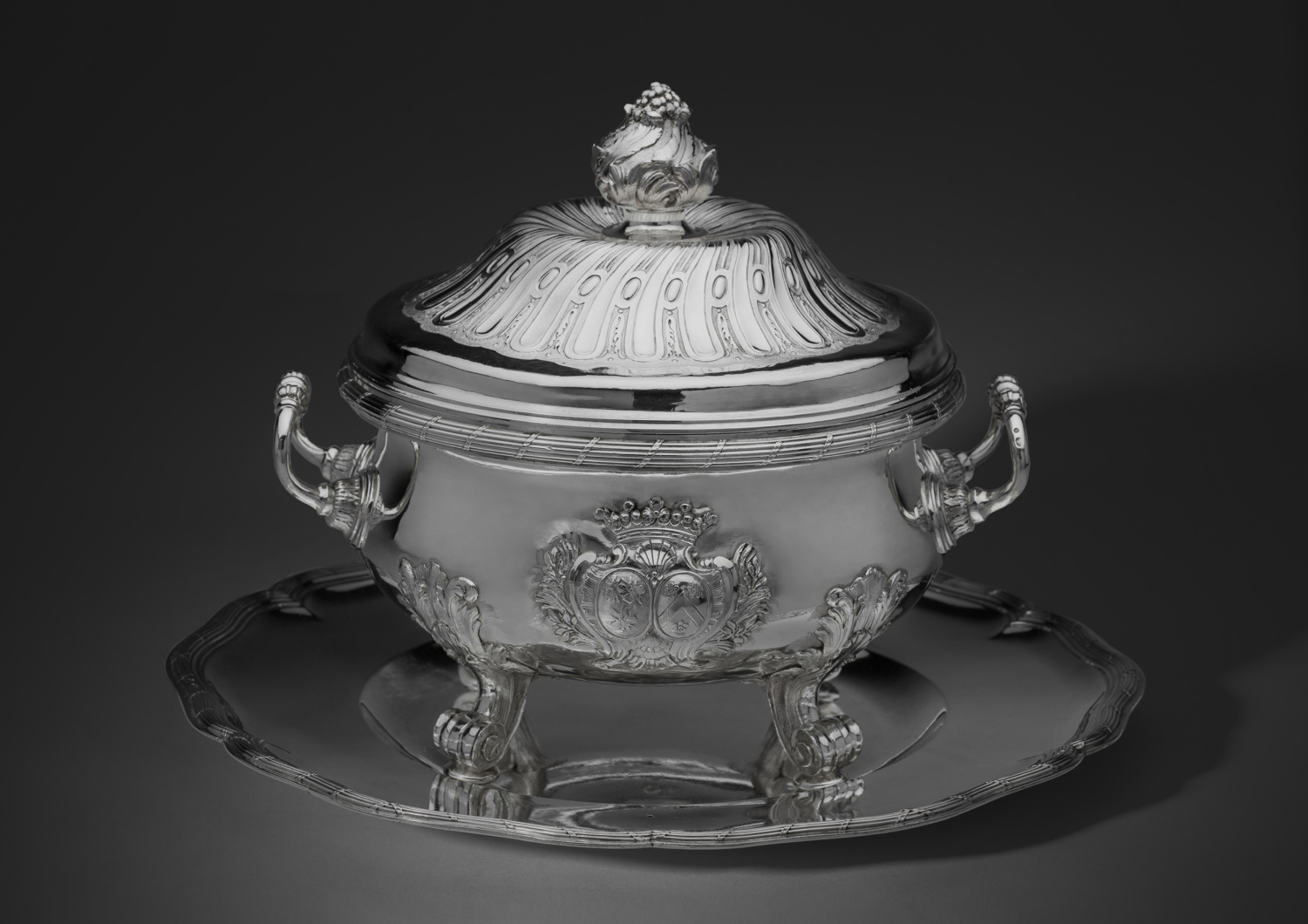 The present circular tureen, or pot à oille, comes from the highly important service of the Marchioness de Bandeville, called the présidente de Bandeville. This silver service, which weigh over 140 kg in total, was commissioned by Pierre-François Doublet, Marquess de Bandeville, President of the Parliament of Paris (1741–1758) and his second wife Marie-Anne Bigot de Graveron whom he married in 1738.
The tureen is still clearly inspired by designs created during the Régence by Claude Ballin and Thomas Germain; and Gouel and his father were among the best artists working in this style. It was probably originally conceived without its stand, in line with the usage of the time. Twenty years later however, after fashion changed, a beautiful stand was added. This piece is rare not only for the quality of its chiselling but its exceptional state of conservation.