Hubert de Givenchy was one of our greatest supporters after the death of our father, encouraging us to take over the gallery and pursue the family passion for art and antiques. His influence on our career was decisive, and for that we are forever grateful.
Precisely 30 years ago, in 1992, Hubert de Givenchy entrusted us with the iconic work of his collection, the "armoire au char d'Apollon" by André-Charles Boulle, as well as his collection of Limoges enamels. Benevolent as he was, he agreed to design our display of the cabinet and enamels on our stand at the 1994 Biennale des Antiquaires.
Coinciding with the exceptional sale of his collection held at Christie's Paris, this exhibition is dedicated to Hubert de Givenchy and his outstanding taste, by bringing together a group of works that once belonged to him, in particular the extraordinary "armoire au char d'Apollon". It was the first major work he purchased in his youth, and acted as a reference point throughout his life as a great collector. Inspired by his green room at the Hôtel d'Orrouer, whose atmosphere we have tried to recreate, we are paying tribute to one of the most illustrious representatives of the French "grand goût".
Nicolas and Alexis Kugel
Unique for its high relief bronze mounts, the "armoire au char d'Apollon" of 110 in. high, in ebony veneered oak and brass and tortoiseshell marquetry, ranks among the masterpieces of French furniture.
Alongside this highlight will be presented a pair of green marble and gilt bronze vases made by Vassou for the collector Blondel de Gagny, a pair of armchairs upholstered in an elegant silk with daffodil motifs, a Louis XIV period desk by André-Charles Boulle, a bookcase made by the cabinetmaker Joseph Baumhauer for the comte de Cobenzl, as well as other works evoking the refined taste of Hubert de Givenchy.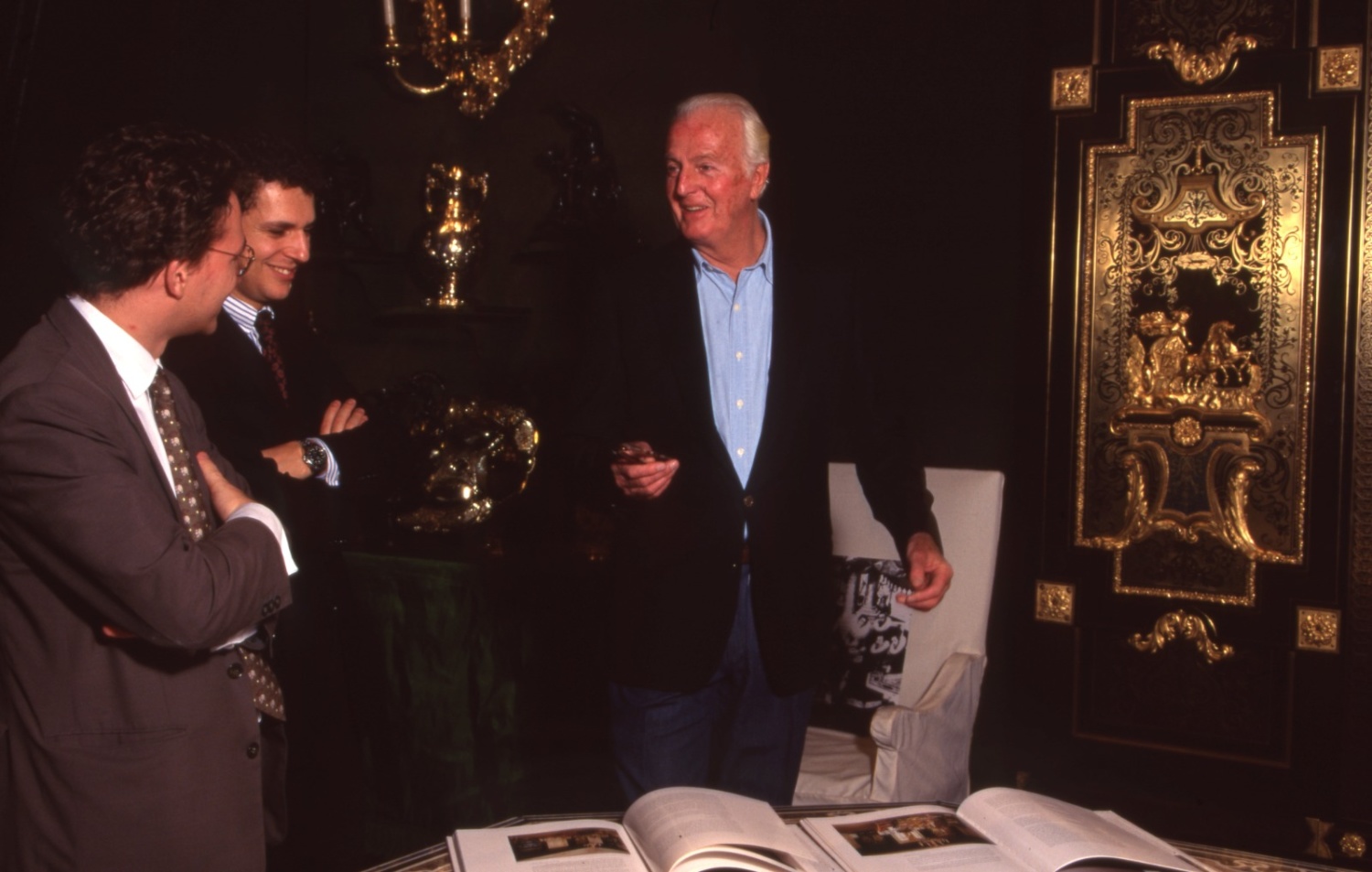 Hubert de Givenchy, Nicolas Kugel and Alexis Kugel at the 1994 Biennale des Antiquaires
© P. Ughetto